In Office Balloon Sinuplasty for Chronic Sinusitis
If you have been diagnosed with chronic sinusitis and are not responding well to medication, or if you have recurrent acute rhinosinusitis, you may be a candidate for sinus surgery. There is now a proven, less invasive technology and Dr. Hohuan specializes in the treatment of sinusitis. He provides an in office procedure to treat patients with chronic and recurrent acute sinusitis.
A Breakthrough in Endoscopic Sinus Surgery
Balloon Sinuplasty (BSP) is a safe and effective sinus procedure for chronic sinusitis patients seeking relief from uncomfortable sinus pain symptoms.
Now Available in Office, Balloon Sinuplasty is:
Safe & Less Invasive
Proven Effective with Fast Recovery
How is Balloon Sinuplasty Safe & Less Invasive?
With Balloon Sinuplasty, there is no cutting of nasal bone or tissue. More than 380,000 patients suffering from chronic sinusitis symptoms have been treated by ear, nose and throat doctors using Balloon Sinuplasty.
How do patients feel after Balloon Sinuplasty?
In a study tracking patients 2 years following their Balloon Sinuplasty Sinus Surgery in the OR, most chronic sinusitis patients report clinically meaningful improvement in sinus symptoms and quality of life.
How long does recovery take after Balloon Sinuplasty?
While recovery time varies with each patient, recovery is typically fast. In a study of in-office balloon dilation, most patients returned to work and normal activity within 2 days.
How its done
Dr. Hohuan will insert a catheter through the opening of the nose into the sinus opening and then thread a sinus guide wire into the targeted sinus, providing light transmission and illumination that will help Dr. Hohuan ensure correct placement of the guide catheter. Once access to the intended location is confirmed, a balloon catheter is introduced into the sinus cavity and inflated to open the narrow or blocked passage. Simple. No tissue removal. No bleeding. No pain.
Step 1. A balloon catheter is inserted into the inflamed sinus.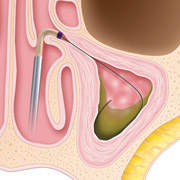 Step 2. The balloon is inflated to expand the sinus opening.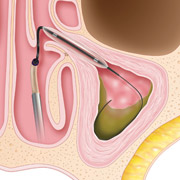 Step 3. Saline is sprayed into the inflamed sinus to flush out the pus and mucus.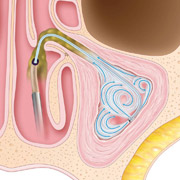 Step 4. The system is removed, leaving the sinuses open.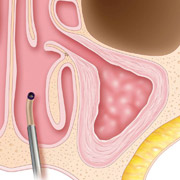 Benefits of Balloon Sinuplasty In-Office
Local Anesthesia

Balloon Sinuplasty In-Office is an option for patients who decline or are ineligible for general anesthesia.

Fast Recovery

While recovery time varies with each patient, most patients who undergo the in-office procedure can return to normal activities and work within 2 days.

Comfortable Surroundings

Experience the procedure in the comfort of your physician's office rather than a hospital operating room.

High Patient Satisfaction

The majority of patients who had Balloon Sinuplasty In-Office would recommend the procedure to family and friends.

Potential for Significant Cost Savings

Some eligible patients may have lower out-of-pocket costs if the procedure is performed in a lower cost of care setting, such as a physician's office.
Balloon Sinuplasty Video Animation
Sinusitis Overview
Sinusitis affects 37 million people each year making it one of the most common health problems in the U.S. It is more prevalent than heart disease and asthma and has a greater impact on quality of life than chronic back pain or congestive heart failure.
When you have acute or chronic sinusitis, the mucous membranes of your nose, sinuses and throat become inflamed, possibly from a pre-existing cold or allergies. Swelling obstructs the sinus openings and prevents normal mucus drainage, causing mucus and pressure to build up. Symptoms include: drainage of a thick, yellow or greenish discharge from the nose or down the back of the throat; nasal obstruction or congestion; tenderness and swelling around the eyes, cheeks, nose and forehead; and/or a reduced sense of smell and taste.
Types of Sinusitis
Depending on the duration of the symptoms, it can be classified into one of several types:
Acute (less than 4 weeks)
Subacute (4-12 weeks)
Chronic (more than 12 weeks)
If you experience 4 or more episodes of acute sinusitis per year, you could have Recurrent Acute Rhinosinusitis.