Medical Grade Skin Care
Facials
Superficial Skin Peels
Medical Grade Facials
Our Signature Medical Grade Facials are customized to address each individual's unique skin care needs. Each facial incorporates pharmaceutical grade ingredients that are designed to effectively treat and correct. Our services provide optimal results and improved appearance, helping you achieve all your aesthetic goals.
Detox Facial
Regulate oily problematic skin with this clarifying treatment. A special blend of pharmaceutical acids exfoliates debris and minimizes pores. The pure combination of volcanic ash, clay, and charcoal decongests while potent antioxidants replenish skin, revealing a fresh and improved complexion.
1.5 hours
Glow Facial
Illuminate uneven skin tone with a brightening blend of AHAs, Vitamin C and Green Tea polyphenols. This corrective facial will exfoliate damaged skin cells and help regain pigment control by suppressing melanin production, leaving you with a rejuvenated and radiant glow.
1.5 hours
Revitalize Facial
Regenerate, Rehydrate, and Renew! Accelerate cell turnover and stimulate cell regeneration with an efficient combination of exfoliants and antioxidants. Achieve maximum skin renewal with vitamins to promote collagen and elastin production, and hyaluronic acid to replenish dehydrated skin. This treatment will rid any lackluster appearance and reveal a vibrant youth-sustaining glow.
1.5 hours
---
Private Label Line of Skin Care Products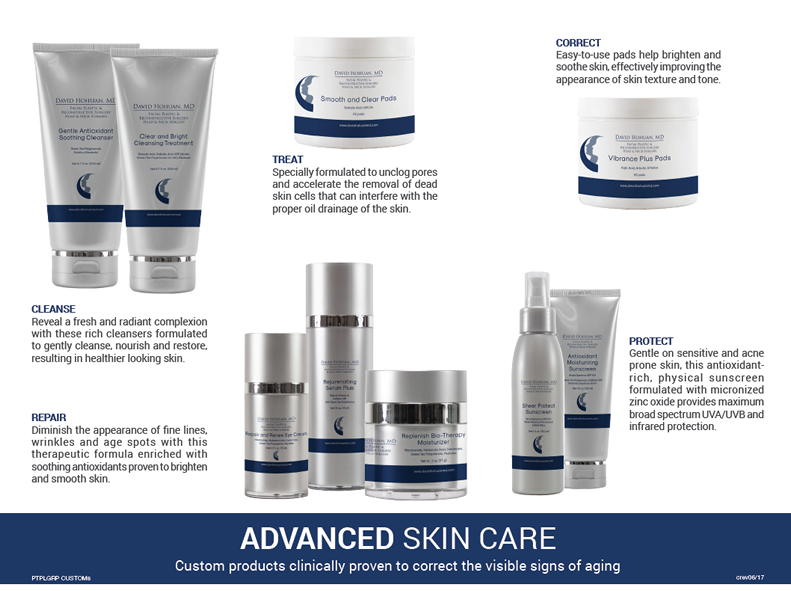 Download Dr. Hohuan Private Label Skin Care Products (PPT)
SkinCare Products by Dr. Hohuan