Facial Reconstructive Surgery / Maxillofacial Trauma
Facial Reconstruction After Moh's Surgery
Many patients request that Dr. Hohuan repair their Mohs surgery defects. It is very easy to coordinate care with Dr. Hohuan and the Mohs surgeon. Patients who desire the optimal cosmetic result come to see Dr. Hohuan at least one week prior to the Mohs procedure. Dr. Hohuan's office will then coordinate the repair with the office of the Mohs surgeon. Both procedures are performed on the same day. For patients who do not yet have a Mohs surgeon, Dr. Hohuan will refer these patients to one of the excellent Mohs surgeons that he works with.
It is very common for patients to request that a facial plastic surgeon repair their Mohs surgery defect. Any patients who are scheduled to have a facial skin cancer removed can contact Dr. Hohuan's office with any questions at (928) 723-3004
Mohs micrographic surgery is a procedure that is performed by dermatologists with advanced training in the removal of certain skin cancer types. These procedures are performed in the dermatologist's office. Following removal of the skin cancer, a surgical defect that almost always requires repair remains. Dr. Hohuan utilizes highly specialized techniques to minimize the appearance of the scar. As a facial plastic surgeon, he seeks to retain the natural appearance of the facial features.
---
Maxillofacial Trauma
Maxillofacial trauma comprises soft tissue and bony injuries to the entire face and neck. Most commonly, accidents result in injuries to the mandible/jaw, nose, bone around the eyes/orbits, and ears. Dr. Hohuan has extensive training and experience in repair and rehabilitation of trauma that involves any soft tissue or bony structure throughout the entire face, head, and neck. He understands how these injuries can have a profound impact on one's life (visual loss, hearing loss, scars, problems with bite, inability to breathe) and does his utmost to restore these to their pre-injury state through a comprehensive understanding of the anatomy of the head and neck, and the use of advanced techniques learned through years of study.
---
Facial Reconstructive Surgery / Maxillofacial Trauma
Reconstructive Surgery After Moh's Before and After Gallery
Diagnosis: basal cell carcinoma of the nose, defect following Mohs removal
Procedure: Reconstructive Flap
Technical Details: 2 stage Right paramedian forehead flap, results at 3 months.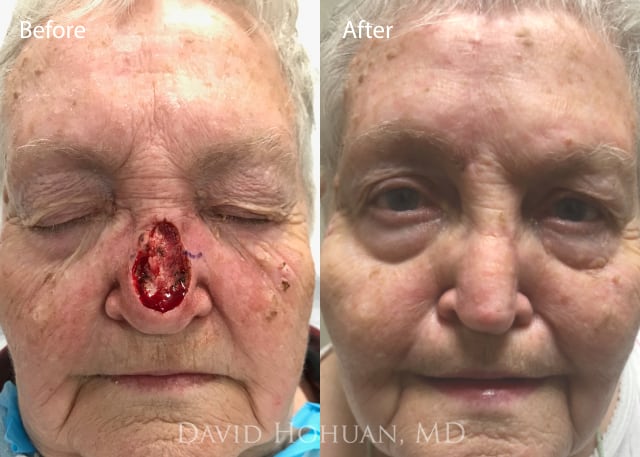 Diagnosis: defect following Mohs extirpative cancer surgery
Procedure: adjacent tissue transfer reconstruction 
Details: Rotation Advancement Flap, Z plasty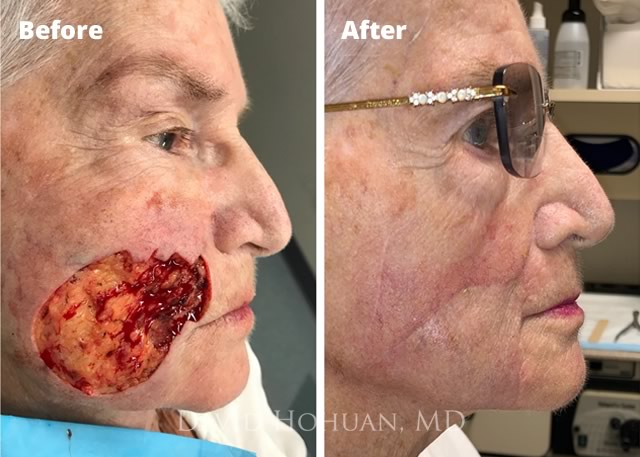 Diagnosis: skin cancer defect
Procedure: Mohs reconstruction
Details: Bilobed flap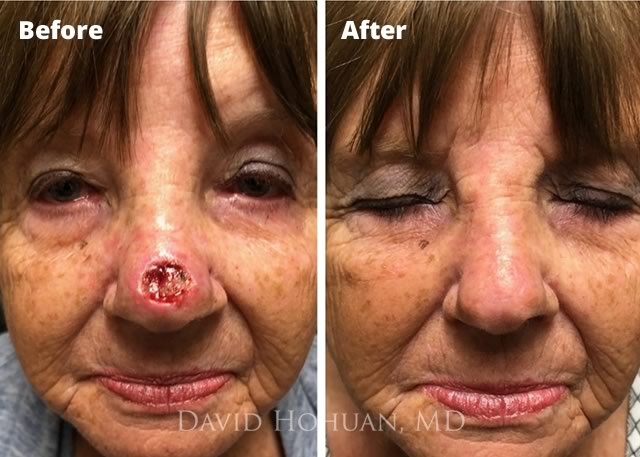 Diagnosis: Mohs defect forehead
Procedure: Adj Tissue Transfer
Technique: O to Z Flap closure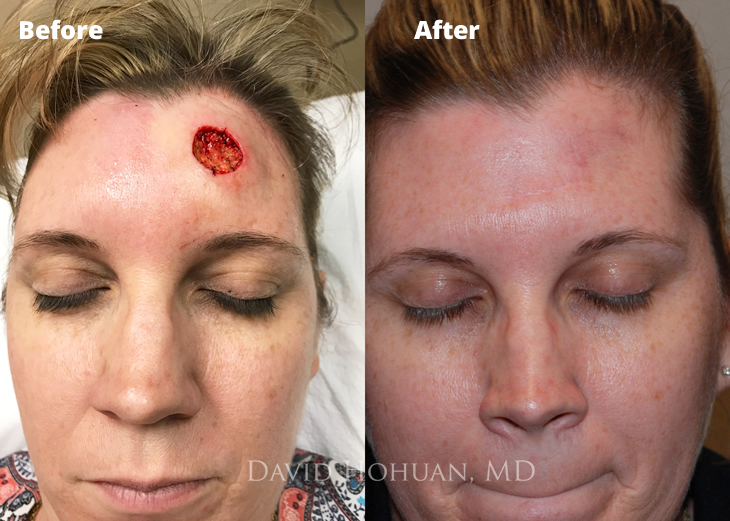 Diagnosis: Cancer of the L ala of the nose
Procedure: Facial Flap reconstruction
Details: Superiorly-based interpolated melolabial flap, 2 stage reconstruction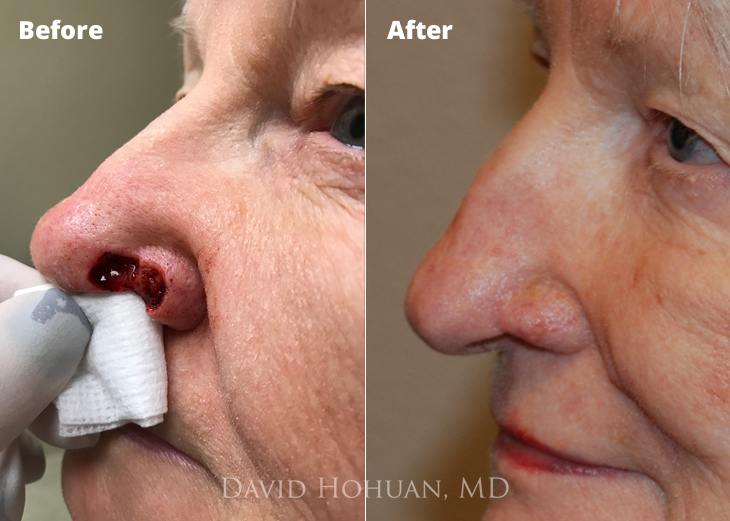 Diagnosis: Basal Cell Carcinoma of Left Alar Rim
Procedure: Local Flap Repair
Technique: Left Melolabial Flap, Internal Nasal Lining Advancement Flap, Interposed Ear Cartilage Graft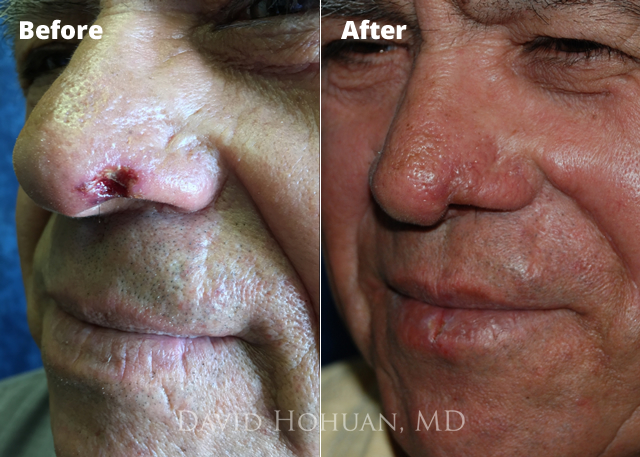 Diagnosis: Full-thickness skin defect nose following MOHs removal Basal Cell Skin Cancer. Defect involves three nasal subunits.
Procedure: Left Paramedian Forehead Flap
Techniques: Three stage flap with intermediate stage to provide maximal recontouring/skin thickness match between native nasal skin and forehead skin.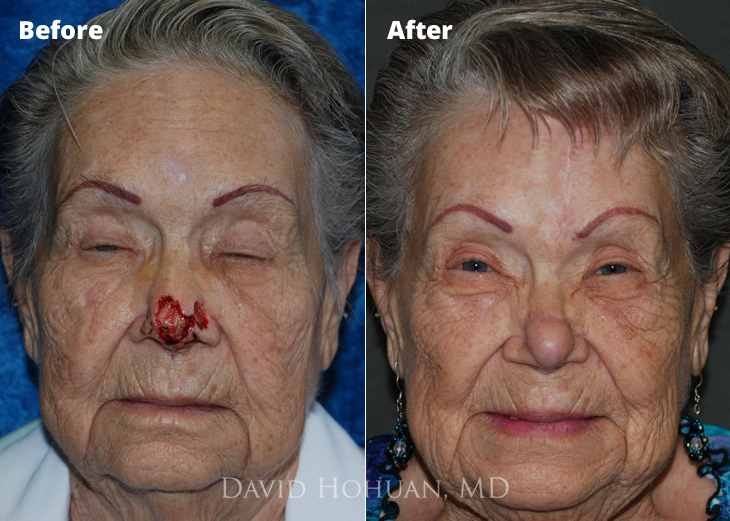 Diagnosis: cancer of the nose
Procedure: nasal reconstruction using facial flap surgery
Diagnosis: skin cancer, Mohs defect of eyelid and face
Procedure: skin cancer reconstruction using adjacent tissue transfer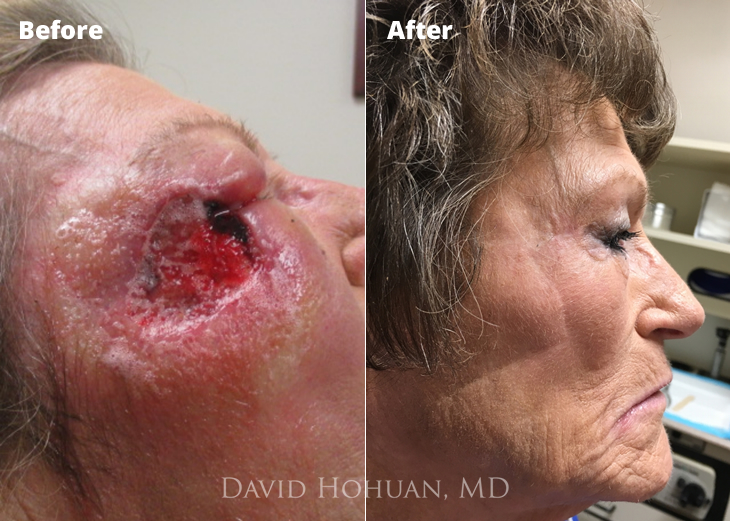 Diagnosis: Mohs defect, skin cancer of the ear
Procedure: Reconstruction using chondrocutaneous flaps, as well as rotation advancement flaps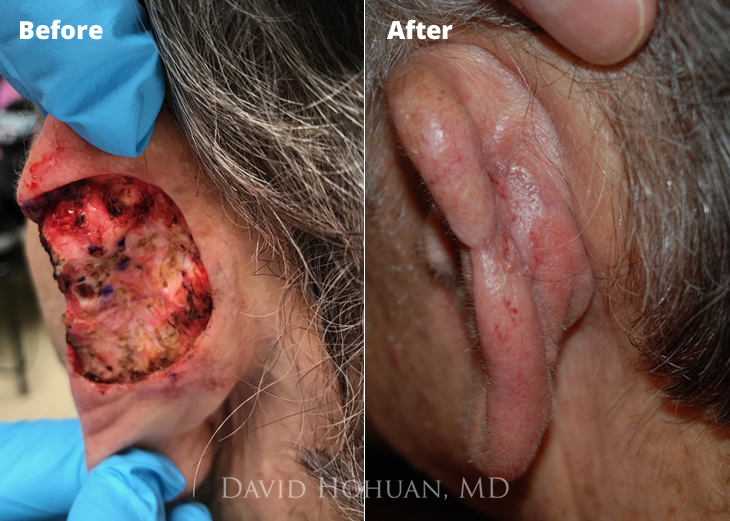 Diagnosis: Mohs defect, skin cancer of the nose
Procedure: Nasal reconstruction, facial flap surgery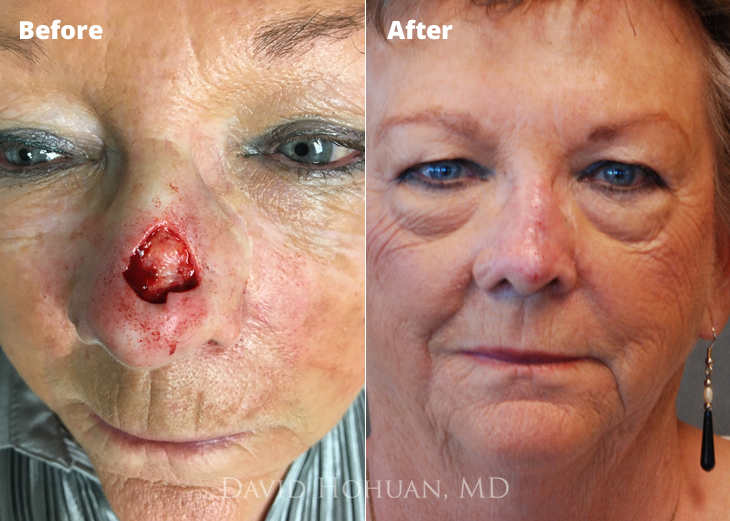 Diagnosis: Scalp defect following Mohs surgery
Procedure: Flap repair using adj tissue rearrangement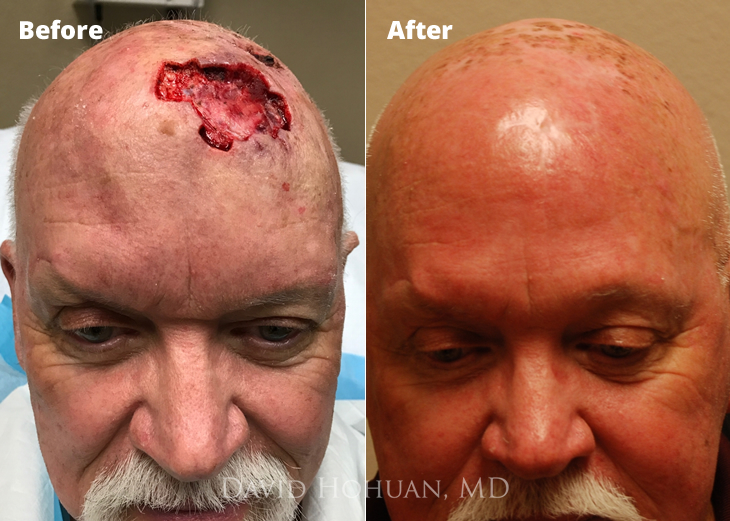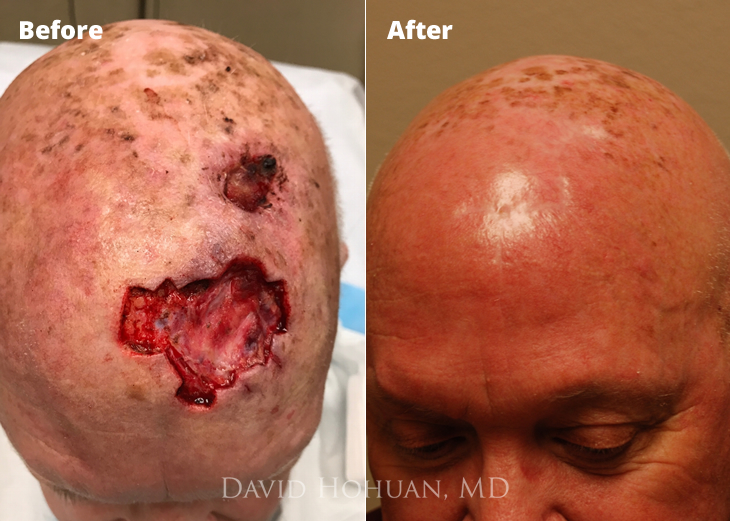 ---
Trauma Before and After Gallery
Diagnosis: Gunshot Wound to Face with obliteration of orbit/cheek bone/nose
Procedure: Reconstruction of Nose/Orbit/Cheek
Technique: Calvarial Bone Harvest, Open Repair of Nasoethmoid Comminuted Fracture, Reconstruction of Medial/inferior orbit with Calvarial Bone, Reconstruction of Nasal and Malar Bone with Calvarial Bone, Open Nasal Septal Reconstruction with Rib Cartilage, Diced Cartilage Wrapped in Temporalis Fascia (DC+F) reconstruction of Dorsum.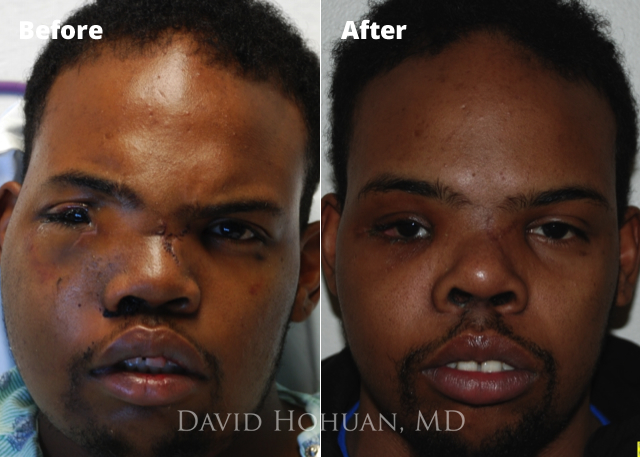 ---
Diagnosis: Severe ectropion with threatened visual loss following trauma and repair by another medical team. Note misalignment of lower eyelid.
Procedure: Full-Thickness Lower Eyelid Reconstruction
Technique: Rotation-Advancement Flap with Modified Tenzel Flap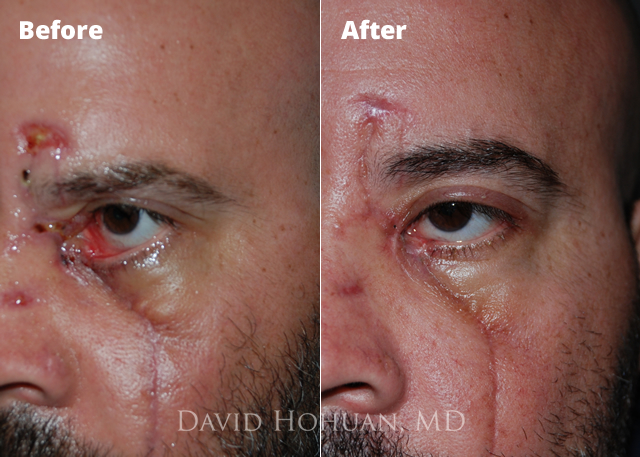 ---
Diagnosis: Facial Nerve Paralysis following Skull Base Surgery and Radiation to Right Face
Procedure: Orthodromic Temporalis Transfer (Dynamic Rehabilitation)
Technique: Temporalis Tendon Transfer, Fascia Lata Graft, Rehabilitation to Upper and Lower Lip/Oral Commissure.