FACIAL FILLERS YUMA, AZ
Before and After Facial Fillers and Botox Photos
This patient had Botox and several different types of fillers used in different places and carefully individualized amounts to achieve goal of improving facial harmony.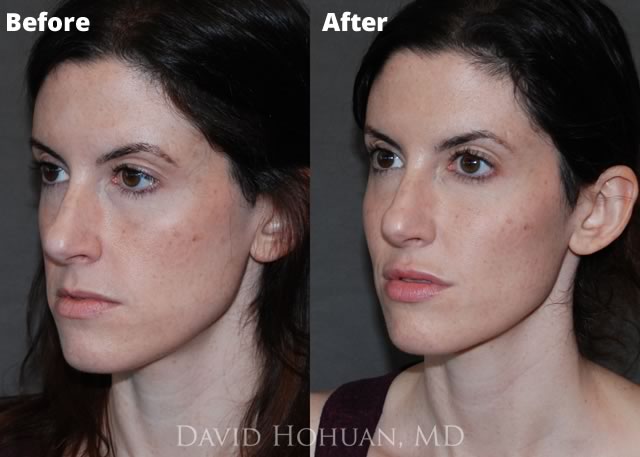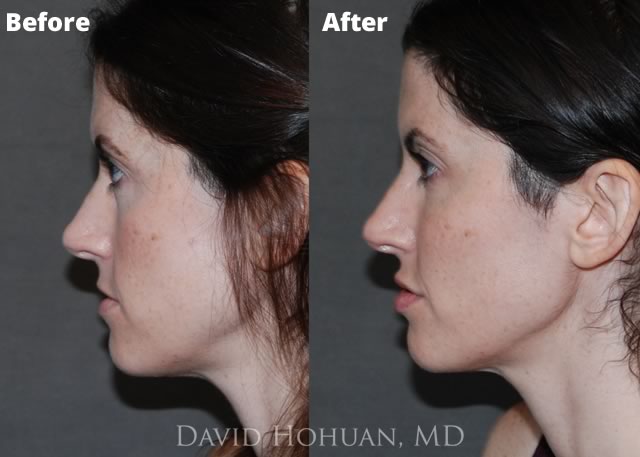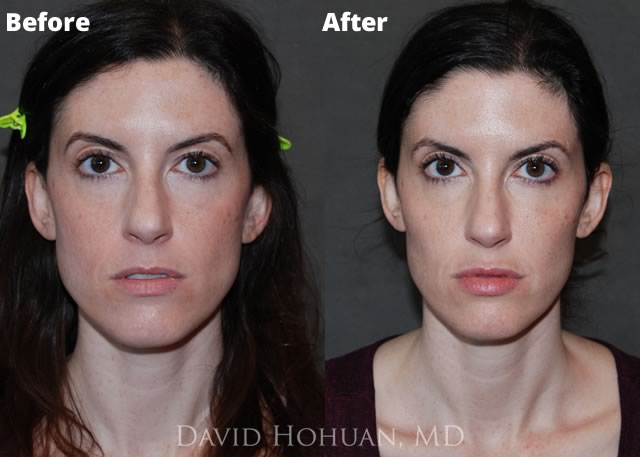 ---
Diagnosis: Early pre-jowling and aging seen as break in jawline, subtle weakness/asymmetry left mid-face. Patient desired aesthetic enhancement of lips.
Procedure: Jawline straightening/lift using long-acting calcium hydroxyapatite (Radiesse) filler, subtle enhancement left mid-face, Lip augmentation using hyaluronic acid filler (Juvederm family).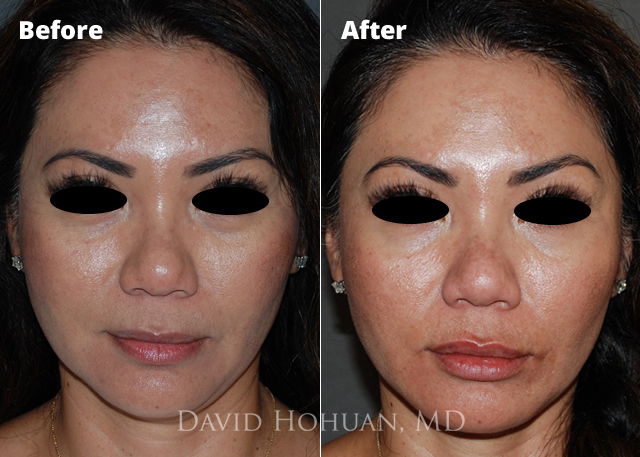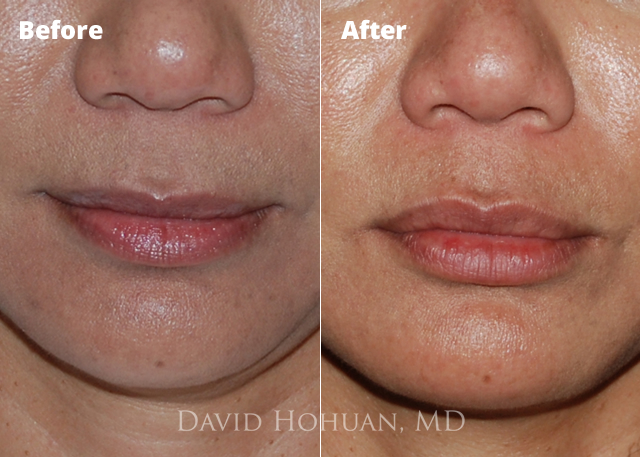 Lip Augmenation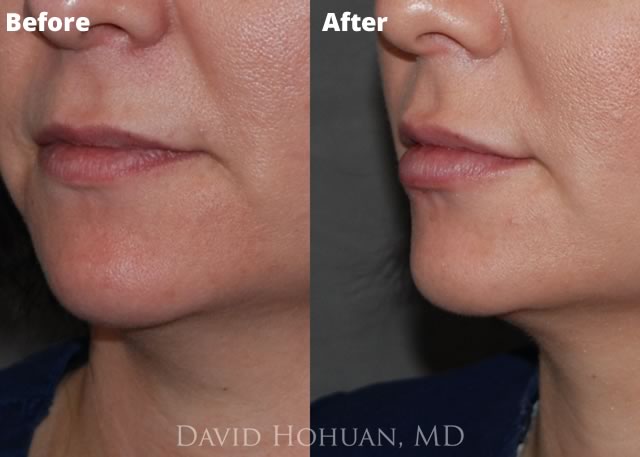 Under Eye Filler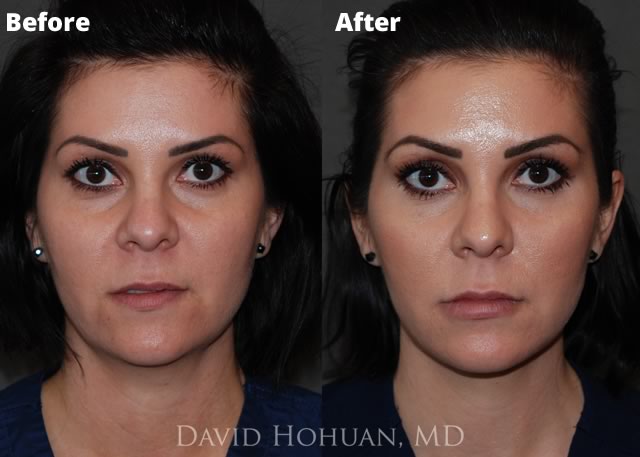 Facial Fillers - Frequently Asked Questions
1. With there being so many fillers on the market, how do you decide which one is the best to use at any given time?
The overwhelming majority of fillers are made from 4 pharmaceutical companies. This includes radiesse, the juvederm family of products, the restylane family of products, and belotero. Each filler has slightly different properties. These properties must be understood before we can decide on the best filler to achieve a desired effect. Some of the fillers work better to create shape, simulating bone, while others work better to soften slight depressions and shadows.
2. Do filler injections hurt?
Most patients tolerate filler injections with minimal discomfort. If it is your first time, the experience will be entirely new, and part of the discomfort can be secondary to not knowing exactly what to expect and feel. We use several methods to decrease discomfort. One, I have a special cream compounded that is 20 times as potent as any regular numbing cream available in hospitals that is placed directly on the skin for 7-10 minutes prior to an injection. Second, each filler I use has very small amounts of anesthetic used to further decrease discomfort. As the procedure goes on, discomfort continues to decrease within any anatomic area we are working on because of the effects of anesthetic. Third, we use cold ice packs throughout the procedure to numb the pain receptors in the skin. The combination of these three things allow patients to undergo these procedures in our clinic with the least overall discomfort.
3. How long do fillers last?
Radiesse can last on average about 12 months. It also has a collagen-stimulatory effect on the skin, prolonging its effects and producing semi-permanent rejuvenating benefits to the skin.
The hyaluronic acid fillers like juvederm, restylane, and belotero have different lengths of duration based on their particular formation. On average, they last about 9 months, but some formulations may last 12 months or more.
4. Last time I received filler injections, it didn't last as long as I thought, or it didn't achieve the effects I wanted. Why?
There can be many reasons for this. Injectable products are akin to different types of paint and building material. You must first have quality materials. The only place to get fillers formulated up to standard and approved by the FDA is directly from the manufacturer. This can typically be done only by board-certified physicians who have established verified accounts with each manufacturer. Although one can purchase fillers online or through secondary sources, there is no oversight of the manufacturing process and no way to safeguard that you are getting the product you think you are purchasing, that what you are purchasing has been diluted, or that what you are purchasing is sterile. Ask your physician from where and whom he/she sources their products from. Secondly, the same paint and building materials in different hands can lead to entirely different paintings and buildings. There is an art to how filler is mixed, how it is administered, and how it is molded. Additionally, this is done with an aesthetic and artistic vision, along with a concept of beauty that must be understood in concert with your patient and their personal goals of beauty and rejuvenation.
5. How do I know if I am a good candidate for filler injections, and whether or not I am the right age to receive them?
Every patient is unique, with their own inherited genetics and their individual environment/lifestyle that constitute an organic canvas on top of which we create. There are no strict age criteria for adults. The quintessential determinant of whether or not filler is right for you is the comprehensive facial analysis with your physician, during which you will also discuss goals of rejuvenation, your individual concept of beauty, and the limitations that different fillers possess. My personal philosophy towards filler injections is that it should always look natural, and should balance harmoniously with someone's age and ethnicity. Therefore, each treatment is tailored carefully to each individual. Fillers give us an incredible range of effects, from immediately straightening a jawline, to instantly creating cheek bones and midface structure.
6. I am worried that I will look plastic or overdone. Should I be concerned about this?
In short, no. Filler, when done appropriately, will never give someone the appearance of being overdone or overfilled. Practitioners who do create these looks for patients often do so because they misunderstand the fundamental properties and effects of fillers, because they lack a sense of proportion or harmony, or because they utilize fillers when other methods of rejuvenation (surgery, lasers, implants, etc.) are more appropriate. I do feel it is important to have filler injections performed by someone who has the full range of aesthetic treatments in his/her armamentarium. This will allow them provide you the most nuanced, knowledgeable, and unbiased recommendations in reaching your goals. Filler is only one part of a comprehensive plan towards reaching one's goal of looking and feeling your best.
7. Why do I feel lumps and bumps under my skin where I have had filler injections?
Different types of fillers will have different properties. Some will stretch more, and some are less "stretchy" and occupy more volume. Particularly with deep fillers, these may be noticeable with your fingers if you press down on the skin. It is important to remember that although fillers may be palpable or "feelable" with your fingers, it is more important that it achieves the look and effect that you and your doctor discuss. It is one of the few times in life where it really is more about what's on the outside then on the inside.
8. When will I see the results of filler?
The results of filler are immediate. I usually see patients back between 1 and 2 weeks because at that time, any swelling from the injections is usually gone. Additionally, some fillers have tiny amounts of aqueous carriers or water molecules that help the filler flow smoothly. These gradually dissolve over 1 to 2 weeks, allowing us to accurately assess the end result of your treatment at your first follow-up appointment.
9. What are the most common complications from filler injections?
Some patients can develop bruising from filler injections which can last a few days. To minimize this, we recommend not drinking alcohol for at least 24 hours prior to your procedure, and minimizing the intake of aspirin, NSAIDS, and any blood thinners for at least one week prior to your procedure. Additionally, cold ice compresses during your procedure keep the swelling and bruising down to a minimum. In some patients who bruise, small pulses of our vascular laser can decrease the time to resolution.
Some patients can have allergic reactions, but this is very rare with the current scope of fillers I use in my practice. If this does happen, this is treated similarly to any other allergic skin reaction.
The most feared complications are related to infiltration of filler into a blood vessel. Thankfully, this is rare. This is minimized with deep knowledge of facial anatomy and vasculature and careful injection technique. Your doctor should be comfortable managing this scenario in the rare case that it does happen.
10. What do you like most about giving filler injections?
There are few things in medicine that allow you to have immediate visible results. It is very gratifying to develop relationships with patients, to discern what their goals are, to deliver them instant results in a very short time with little to no downtime. It is one of the most gratifying aspects of plastic surgery and medicine.
---
RADIESSE®
How it Works
RADIESSE® is a wrinkle filler used to plump the skin. RADIESSE® is injected through a small needle and placed under the skin. Immediately, this filler works to add volume under the skin and over time, the benefits of RADIESSE®continue by stimulating your body's own natural collagen. The natural results have been shown to last a year or more in many patients, making the treatment results both immediate and long lasting.
Are wrinkles giving away your age?
RADIESSE® provides an instant lift by restoring lost volume in areas of the lower face, effectively treating moderate to severe wrinkles and folds. And it continues to work with your body, stimulating the natural production of collagen for a more refreshed appearance that can last up to a year or more in many patients.
RADIESSE® is ideal option for adding lift to Smile lines, Marioinette Lines, Pre-Jowl Folds, Corners of the Mouth.
Why choose RADIESSE®?
RADIESSE® immediately replenishes lost volume and stimulates the production of your own natural collagen with results that can last a year or more in many patients.
Over time, the gel is absorbed and the body metabolizes the CaHA microspheres leaving behind only your own natural collagen.
RADIESSE® is clinically proven to last a year or more in many patients.
RADIESSE® provides results with high patient satisfaction.
RADIESSE® is FDA approved to mix with lidocaine, an anesthetic, to significantly reduce injection-related pain

Diagnosis: hollowing of the cheeks
Procedure: Radiesse to subzygomatic region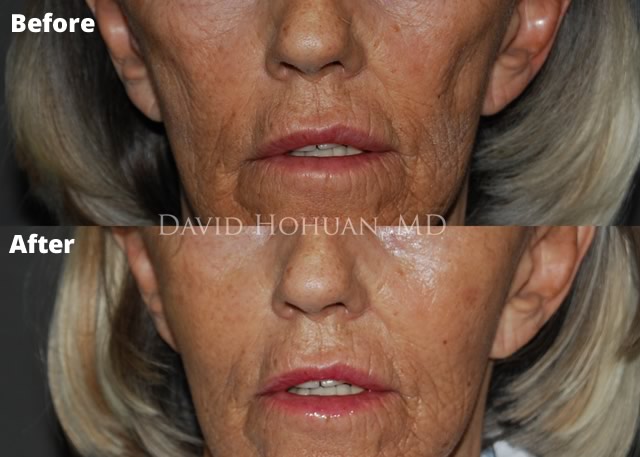 ---
JUVÉDERM VOLUMA® XC, and JUVÉDERM ULTA
Treatment Areas:
Cheeks - JUVÉDERM VOLUMA® XC injectable gel instantly adds volume to the cheek area to correct age-related volume loss in adults over 21.
Lines and Wrinkles - JUVÉDERM® XC injectable gel instantly smooths moderate to severe parentheses lines and wrinkles around your nose and mouth.
Plump Lips -JUVÉDERM® Ultra XC injectable gel is for lip augmentation in adults over 21.
What should you expect?
Dr. Hohuan administers the treatment during a brief office visit. JUVÉDERM VOLUMA® XC, JUVÉDERM® XC, and JUVÉDERM® Ultra XC contain lidocaine to help minimize discomfort during treatment. If you're still concerned about treatment discomfort, your aesthetic specialist may offer additional anesthetic options for you.

---
Restylane®
Restylane® can be used to add volume and fullness to the skin to correct moderate to severe facial wrinkles and folds, such as the lines from your nose to the corners of your mouth (nasolabial folds). Restylane may also be used for lip enhancement in patients over 21 years.
Restylane is a clear gel formulation of hyaluronic acid that is specifically formulated to act like your body's own naturally produced hyaluronic acid, helping to visibly correct moderate to severe facial wrinkles and folds, including the lines from your nose to the corners of your mouth (nasolabial folds or laugh lines), the corners of the mouth and marionette lines — the area that extends downward from the corners of the mouth to the jawline.

---
KYBELLA® Chin Fat Removal
HOW KYBELLA® WORKS
The active ingredient in KYBELLA® is synthetic deoxycholic acid. Deoxycholic acid is a naturally occurring molecule in the body that aids in the breakdown and absorption of dietary fat. When injected into the fat beneath the chin, KYBELLA® destroys fat cells, resulting in a noticeable reduction in fullness under the chin. Once destroyed, these cells can no longer store or accumulate fat, so further treatment is not expected once you reach your desired aesthetic goal.
WHAT TO EXPECT WITH KYBELLA®
Before starting treatment, Dr. Hohuan will examine the area under and around your chin to determine if KYBELLA® is right for you. Then, your specialist will tailor your treatment to the amount of fat under the chin and your aesthetic goals.
How is KYBELLA® administered?
Treatment can only be administered by a KYBELLA®-trained specialist. At each treatment, you will receive multiple small injections under your chin, and the injection process takes about 15 to 20 minutes. The exact number of injections will depend on the amount of fat you have under your chin and your desired profile.
How many KYBELLA® treatment sessions will I need?
Since everyone's chin profile is different, the number of treatments varies from patient to patient. Dr. Hohuan will help determine how many treatment sessions you need based on the amount and distribution of your submental fat and your personal treatment goals. Each KYBELLA® treatment session is given at least 1 month apart, and you should not receive more than 6 treatments. In clinical studies, 59% of patients received 6 treatments.

Kybella Before and After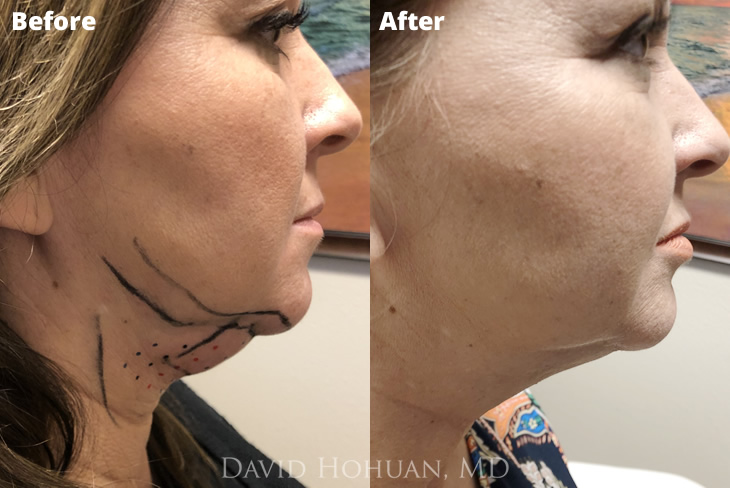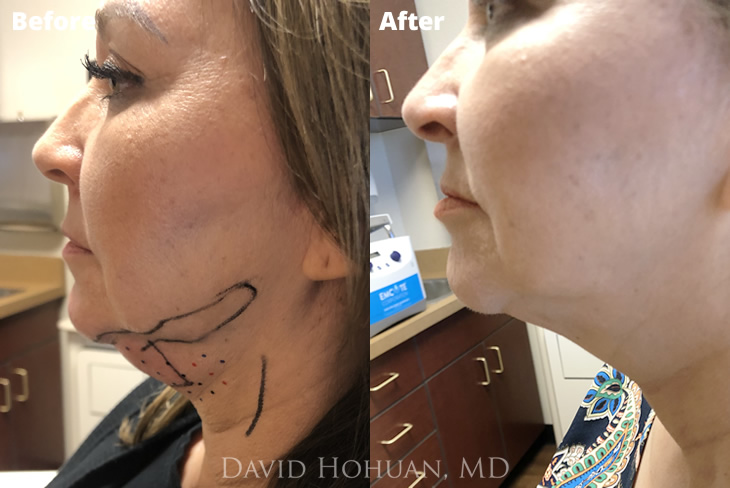 ---
BELOTERO BALANCE®
The Benefits of Balance
You've always been able to look younger than your age, trimming a few years off here and there with your stylish clothes, your radiant smile, and even your vibrant personality. All the while, the effects of aging have been trying to catch up to you, working to form small wrinkles and stubborn etched-in lines on specific areas of your face.
Maybe you've noticed a few stubborn lines above your lips that used to be hidden by makeup, or you've caught your reflection and seen some small wrinkles starting to develop around your mouth. Although these changes are natural, it doesn't mean you have to live with them.
Fortunately, there may be an ideal option that can help you take those wrinkles all the way to smooth.
BELOTERO BALANCE® injectable gel is a prescription injection that is used to temporarily smooth out and fill in moderate-to-severe nasolabial folds as well as other moderate-to-severe etched-in lines and wrinkles around your lips and mouth.
Clinically proven safe and effective, BELOTERO BALANCE:
Helps smooth moderate-to-severe etched-in facial lines and wrinkles
Feels natural to the touch
Maintains normal movement and facial expressions
Is a quick, easy treatment that provides immediate, noticeable results
Requires little to no downtime